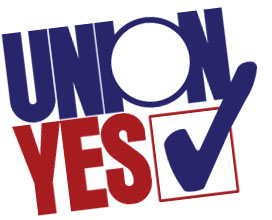 The American Federation of Labor-Congress of Industrial Organizations (AFL-CIO) works every day to improve the lives of people who work.
We help people who want to join together in unions so they can bargain collectively with their employers for better working conditions and the best way to get a good job done. We work to ensure that all people who work are treated fairly, with decent paychecks and benefits, safe jobs, respect and equal opportunities. To help working people acquire valuable skills and job-readiness for 21st century work, we operate the largest training network outside the U.S. military. And we provide an independent voice in politics and legislation for working women and men and make their voices heard in corporate boardrooms and the financial system.
Our roots are deep in communities and extend to countries across the globe as we partner locally, nationally and worldwide with allies who share the values of working families.
Who We Are
The AFL-CIO, created in 1955 by the merger of the AFL and the CIO, is a democratic, voluntary federation of national and international labor unions that represent working people.
 
We are teachers and miners, firefighters and farm workers, bakers and engineers, pilots and public employees, doctors and nurses, teachers, painters and plumbers—and more, including members of our community affiliate Working America, which represents people who do not have a union at work. We have partnerships with groups of people whose work usually does not have the protection of many labor laws and who often are mistreated on the job, including taxi workers, carwash workers in Los Angeles, guest workers, nannies, housekeepers and in-home caretakers.
How We're Governed – The National Organization
The AFL-CIO is governed by a quadrennial convention at which all AFL-CIO members are represented by delegates elected by their fellow union members. These delegates set broad policies and goals for the union movement, as well as our Constitution, and every four years elect officers who govern the day-to-day work of the AFL-CIO.
These three officers, along with 55 vice presidents, make up the AFL-CIO Executive Council, which governs the AFL-CIO between conventions. Between Executive Council meetings, the AFL-CIO is governed by an Executive Committee, made up of vice presidents of the AFL-CIO's 10 largest affiliate unions, the three executive officers and representatives of up to nine additional affiliate unions. They are appointed by the president and approved by the Executive Council and establish the federation's annual budget.
The AFL-CIO Constitution calls for diversity of gender, race, ethnicity and work sector on our governing bodies.
In states and communities, the AFL-CIO amplifies the voices of working families through 51 AFL-CIO-chartered state federations (including Puerto Rico) and more than 500 chartered central labor councils, led by officers and boards elected by local union delegates.
The Issues We Work On
The AFL-CIO provides information to working people about issues that affect their daily lives, and encourages them to make their voice heard for a government that works for working families. We make sure members have the latest union facts and news on workers' rights.
Our priorities include creating good family-supporting jobs by investing tax dollars in schools, roads, bridges, ports and airports; improving the lives of workers through education, job training and a livable minimum wage; keeping good jobs at home by reforming trade rules, re-industrializing the U.S. economy and redoubling efforts at worker protections in the global economy; strengthening Social Security and private pensions; ensuring fair tax policies; making high-quality, affordable health care available to everyone; and holding corporations more accountable for their actions.